02 February 2022
7 min read
Nurses.co.uk: The Different Approach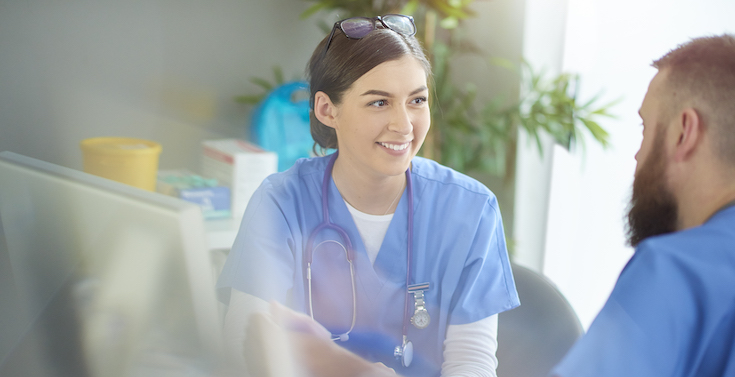 Nurses.co.uk is a job site like no other. Its history, along with its new endeavours come together to create something unique. In this piece, we take a peak behind the curtain at nurses.co.uk.
When it was founded, all the way back in 2008, I don't know if its creators had ever envisioned what this company would become. However, fourteen years later and nurses.co.uk is still here, still at the top of its industry and now, is hoping to branch out into some new, albeit slightly different, ventures.
Job sites are nothing new. I'm sure that you could name a couple as you sit there reading this without too much trouble. You search through countless jobs that don't suit you, then, totally frustrated, you acquiesce to uploading your online CV, which never gets looked at and then eventually, after going through thirty six thousand job portals, you stumble upon the one job that you were actually looking for. Sadly, by this point, the job has expired and you are back to square one. It's a circle of self abuse that we all face when looking for a new job. But what if things were different? What if the job was easy to find? What if you didn't have to sell two kidneys to find yourself at the point where you were able to apply? Welcome to nurses.co.uk.
Now, it would be remiss of me not to start by talking about origins. Nurses.co.uk started as a job site, plain and simple. The competitors that you've probably heard of were its competitors and that was kind of it. However, its Co-Founder, Matt Farrah, was never totally happy with this model. The job searching industry was too impersonal, too intractable, it needed something different. Content. Obviously, content on job sites is nothing new, "How Do You Write A Great CV?", "What Do Employers Look For At A Job Interview", "Why This Website Is Making You Lose The Will To Live" y'know, the usual kind of nonsense. It's all fairly pithy and vaguely patronising.
The Nursing community is one of the most vibrant, nuanced and utterly astonishing community of people that you will ever come across. Everybody has experience, opinions and stories to tell. So, why is nobody asking them?

If you want a reason to get into Nursing, or if you want advice on how to get into Nursing, why not just get the people that are already there to give you their advice? That's where we are with Nurses.co.uk; a thriving community of people telling stories that anybody might actually care about. And not just if you work in Nursing, these stories transcend vocation and genuinely mean something to anybody. It's funny, this company started out as a job board but the content might well have muscled in to share the space equally with it, these days.
The community of contributors that nurses.co.uk has managed to put together means something. These are people who have had varied pasts, admirable presents and a future that could lead anywhere. These people have something to say that you need to listen to, regardless of your background. And marrying that to the job board might actually make you want to go into Nursing, as opposed to somebody who knows nothing about the industry spouting generic catchphrases.
In recent months, the company has evolved again, moving into the retention of Nurses. And to be honest, this is where I want to focus a lot of attention. I promise not to get too political but we have a government that fundamentally undermines Nurses at every turn. Be it with pay, working conditions, or just a lack of respect. And then they get surprised when staff turnover is the highest it has been in living memory. Now, I don't want to get any further into that debate, largely because I don't have the energy to think about it anymore but the upshot is; there's a problem. Nurses are becoming utterly disillusioned with their jobs and that is bad; quite bad, in fact. So, how do we help?
The Nurses.co.uk Academy is an attempt to try and claw back some of the Healthcare Professionals that we are haemorrhaging and get them feeling better about their career. Perhaps even, excited. Taking onboard advice from an array of experts from varying fields, the Nurses.co.uk Academy is crafted to help Nurses with an array of issues that they may be facing. From Skills Training, all the way through to Self-Care, this programme is designed to help Nurses face the problems that actually matter to them. I realise that the phrase "By Nurses, for Nurses" is probably so rebarbative by now that it verges on trope but this programme genuinely is. By using the experience of people that actually matter, nurses.co.uk wants to make a real and paradigm shifting change in the world of healthcare. It isn't enough to say that you're going to do something, to make hollow promises in the lead up to election day; something needs changing and it needs changing now. The health service is creaking under the weight of disillusionment and disappointment and we need to do something about it.

This issue affects all of us and we all need to be sitting up and paying attention. Anyway, enough of my impassioned speeches that would be better suited to the outskirts of Helm's Deep, I want to move on.
I've always been excited by tales. I'm forever transfixed by the varying landscapes of a great fiction, or rendered speechless in admiration for the stories of real people making a difference. I think this is where Spotlight really catches me. Real stories from businesses and organisations that are actually doing something meaningful. You've probably read a million promotional articles, the kind of pieces that start off as if they might be decent but very quickly descend into narrative anarchy. I'd love to see these pieces mean something, to come from the mouths of those who are trying to make a genuine difference. Imagine reading a piece that was promotional but actually had a bit of heart. Spotlight will do this. Taking stories from people who are authentic and sharing them with the world. It's so important that we hear about the journeys of those that we may otherwise not have. To share the experiences of people and figure out what we can learn from them is so, so rewarding. That's what Spotlight seeks to do.

In truth, Nurses.co.uk is a pastiche of varied endeavour. Matt himself would probably admit that he doesn't know if everything will work, or if the company might have to regroup and go again but none of that matters, really. At its core, this company has values that we should all try to align ourselves with. It is an example of how to run a company without putting diligence and morals last, of how to fight for something that you feel is important, is critical. In every arm of the business, there is obviously an attempt to better themselves, to grow the company but everything is underpinned by an unrelenting and undeniable vein of authenticity and genuine care.